Dolly mit Gummischienen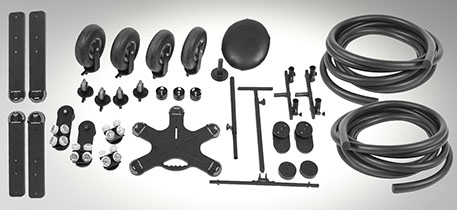 35,00 €/Tag
inkl. 19% MwSt.
netto:
29,41 €/Tag
19% MwSt.:
5,59 €/Tag
Camdolly mit Gummischienen
Zubehör inkl.
Zubehör
Operator
Tipps
Einsatz
Baseplate (1)
Extension Legs (4)
Inflatable Pneumatic Wheels (4)
Table Top Wheels (4)
Track Wheels (2-fixed, 2-with extending arm)
Tripod Holders (3)
Doorway Dolly Push/Pull/Turn Adapters (2)
Height Difference Adapters (2)
Seat Assembly (1)
T-bar Assembly (1)
Track Ends/Custom-made tracking board support (2 for tracks, 2 for support)
Flexible Solid Rubber Truck (2x15 meters/ 2x50 ft.)
All the necessary screws
Degrees vs. Diameter Chart (Imperial and Metric) (2)
75mm and 10mm Bowl Mount Adapters (1)
Flat/Mitchell Mount Adapter (attached to the Baseplate, can be exchange with bowl adapters)
alle Stative
Lucas Fuchs
Katrin Walter
Einmal um die Kurve? Na dann ist dieser Dolly ideal. Falls der Untergrund uneben ist, ist es sinnvoll Styroporplatten auszulegen. Dann sollte der Ton allerdings keine Rolle spielen, denn das das wird ab und zu knacken. Alternativ einfach mit harten Platten auslegen. Die schweren Gummischienen können so einiges ausgleichen. Ein Test ist allerdings auf jeden Fall ratsam.


indoor -Aufnahmen
outdoor-Aufnahmen
Dreh mit sehr schweren Kamerasets (bis 65kg-Sets mit Operator)