Blackmagic Production 4K EF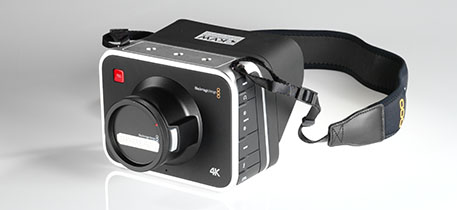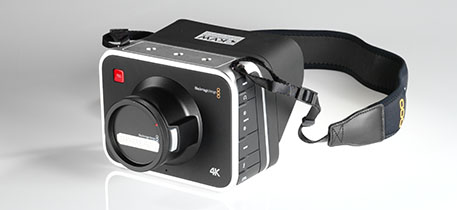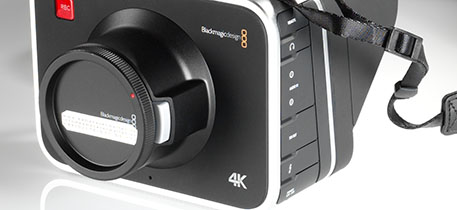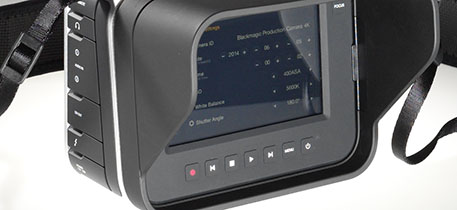 60,00 €/Tag
inkl. 19% MwSt.
netto:
50,42 €/Tag
19% MwSt.:
9,58 €/Tag
Blackmagic Production 4K
Zubehör inkl.
Zubehör
techn. Daten
Operator
Tipps
Einsatz
Blackmagic Cinema 4K
SSD 480 GB (30Min. 4K Raw)
Netzteil
Sonnenblende
Optiken:
Canon EF 70-200mm/F2,8
Canon EF 28-80mm/F3,5-5,6
Canon EF 50mm/F1,8
Samyang EF 14mm/T3,1
Samyang EF 24mm/T1,5
Samyang EF 35mm/T1,5
Samyang EF 50mm/T1,5
Samyang EF 85mm/T1,5
Sigma Art EF 35mm/F1,4
Sigma Art EF 50mm/F1,4
Tamron Macro EF 90mm/F2,8

Monitor:
Alphatron Viewfinder
Atomos Shogun
Convergent Odyssey 7Q
Blackmagic Video Assist
Sony PVH 740

Sonstiges:
Rig-Zubehör
Follow Focus
Camdolly
Licht
Greenscreen-Set


Size:
16,6 x 11,3 x 12,6 cm

Weight:
1,7 kg

Sensor Size:
22mm x 11.88mm (Super 35)

Crop Factor:
1,73

RAW Resolution:
12-bit RAW files recorded at 4000 x 2160

Shooting Resolutions:
4K RAW at 4000 x 2160, ProRes at 3840 x 2160 and 1920 x 1080

Frame Rates:
4K RAW at 4000 x 2160p 23.98, 24, 25, 29.97, 30
Ultra HD 2160p23.98, 24, 25, 29.97, 30
HD 1080p23.98, 24, 25, 29.97, 30

Dynamic Range:
12 stops

Focus:
Focus button turns on peaking, plus auto focus on active lenses

Iris Control:
Iris button adjusts iris settings on compatible lenses so no pixel is clipped in film mode. Scene average auto exposure in video mode

Lens Mount:
EF mount compatible with electronic iris control
ZE mount (Zeiss EF) compatible with electronic iris control

Screen Dimensions:
5" and 800 x 480 resolution

Metadata Support:
Automatic camera data and user data such as shot number, filenames and keywords

Screen Type:
Integrated LCD capacitive touchscreen

Controls:
Onscreen touch menus and physical buttons for recording and transport control

Microphone:
Integrated mono microphone

Speaker:
Integrated mono speaker

Mounting Options:
3 x 1/4"-20 UNC thread mounting points on top of camera. 1 x 1/4"-20 UNC thread tripod mount with locator pin

Storage Type:
Removable 2.5" SSD

Storage Format:
Mac OS Extended or exFAT format
SSDs can be formatted in camera or on any Mac or Windows computer
Formatting in camera recommended

Storage Rates (based on 30fps):
4000 x 2160:
CinemaDNG RAW - 265 MB/s
3840 x 2160:
Apple ProRes 422 HQ - 110 MB/s
Apple ProRes 422 - 73.6 MB/s
Apple ProRes 422 LT - 51 MB/s
Apple ProRes Proxy - 22.4 MB/s
1920 x 1080:
Apple ProRes 422 HQ - 27.5 MB/s
Apple ProRes 422 - 18.4 MB/s
Apple ProRes 422 LT - 12.75 MB/s
Apple ProRes Proxy - 5.6 MB/s

Recording Formats:
Lossless CinemaDNG RAW with film dynamic range at 4000 x 2160
Apple ProRes 422 HQ, ProRes 422, ProRes 422 LT and ProRes 422 Proxy at 3840 x 2160 and 1920 x 1080 10-bit YUV with either film or video dynamic range

SDI Video Output:
1 x 6G-SDI 10-bit 4:2:2 with choice of Film or Video Dynamic Range

Analog Audio Input:
2 x 1/4" jacks for professional balanced analog audio, switchable between mic and line levels

Analog Audio Output:
1 x 3.5mm stereo headphone output

SDI Audio Output:
2 channels in 6G-SDI 48 kHz and 24 bit

Remote Control:
1 x 2.5mm LANC for Rec Start/Stop, Iris Control and Focus

Computer Int
Katrin Walter
Wer bei dieser Kamera aus der Hand filmen will, aber nur FullHD in der Ausgabe braucht, sollte die vollen 4K des Sensors verwenden, um anschließen das Material in der Software Davinci Resolve zu stabilisieren. So kann eine unruhige oder ruhige Kameraführung verwendet werden, um die gewünschte Zuschauerreaktion zu erhalten. Wer sich noch mehr Möglichkeiten in der Post erhalten will, wenig Zeit am Set hat oder eine Szene nur einmal filmen kann, sollte die Kamera auf ein Stativ packen und die Szene als Totale aufnehmen, um die Kameraarbeit im Bereich Ausschnitt und Bewegung nachträglich in Davinci Resolve generieren. Bis zu 1/4 kann in das Bild eingezoomt werden. Die Totale bleibt so angenehm scharf und die Ausschnitte entsprechend weicher. Wer will denn schon im Gesicht die Poren zählen ;).

Wer die hohen Datenraten der RAW-Daten fürchtet, kann auch unter Apple Pro Res die Dynamik "Film" unter dem Menüpunkt "Recording" verwenden.

Die Funktion Timelaps (Zeitraffer) ist in dieser Kamera besonders interessant, da sie im RAW-Modus verwendet werden kann. Da macht die Farbkorrektur in der Post mal so richtig Spaß.
Kinoproduktion
TV-Produktion
Konzert
Liveschnitt
Musikvideo
Naturdoku
Tieraufnahmen
Werbung
Produktfilm
Industriefilm
Nachwuchs-Film